Pallet skids are high-strength corrugated cardboard constructions that easily and conveniently replace the use of heavy wooden pallets, which are cumbersome to handle. They are self-adhesive and with their attachment it is easy to turn a normal outer box into a full-fledged transport pallet in just a few moments.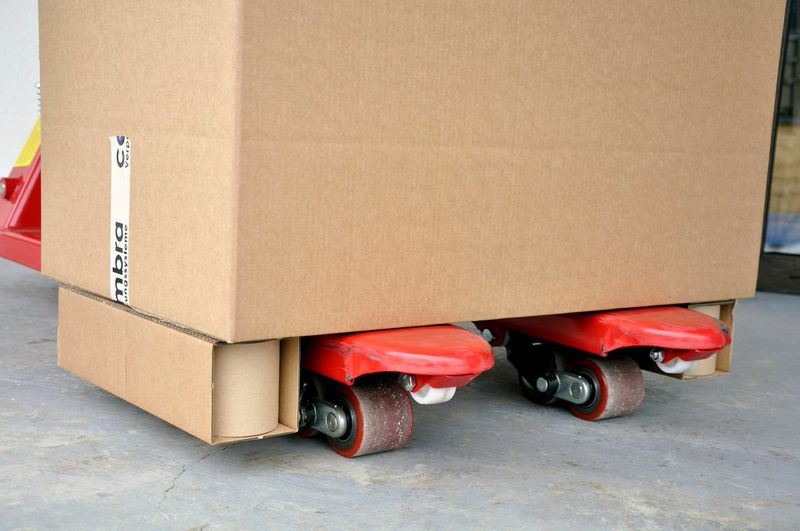 2
Not only holds on cardboard boxes
Pallet skids are made very intelligently, so that the corrugated cardboard constructions are very robust and can withstand tons of loads (depending on the model with up to 2 tons per skid!). The self-adhesive lines are particularly strong, so that the skids can be conveniently and easily attached to the box and guarantee a maximum hold.
Success through selection
Pallet skids are delivered ready-made and can be attached quickly and easily. All you have to do is remove the protective foil from the self-adhesive lines and fix the runner by pressing it briefly – the transport pallet is ready! In this way, each box can easily be turned into a transport pallet if necessary. There are different types of pallet skids to choose from:
HANSA pallet skids: HANSA pallet skids are available in various load capacities and lengths up to 1,200 mm. A practical perforation makes the application particularly flexible: the desired skid length can simply be broken off by hand.
VEGA pallet skids: Vega- the "V" -shaped skids. The special construction guarantees maximum stability even in damp conditions. In addition, VEGA skids can underpassed from all four sides: a decisive advantage for fast and flexible transport.
DIY pallet PALSET: In addition to the pallet runners, the complete PALSET system also includes suitable corrugated cardboard formats in 1/4 or 1/2 euro-pallet sizes. By attaching the skids to the corrugated cardboard formats, practical and powerful one-way pallets are created.
The advantages at a glance
Pallet skids are very light and thus save costs during transport (mainly with air freight). They are also made of 100% paper and are therefore free of certification when sending abroad. In addition, their small size also saves storage space. Thanks to the practical perforation, the skids can be flexibly attached to size of any box. The skids are temperature-resistant and insensitive to moisture. They can also be conveniently disposed of with the cardboard box as single-material packaging.
I want to have
First of all, only a little time for an appointment with our packaging specialist, who will assess your work environment and advise you individually in order to find the best possible packaging solution for you.