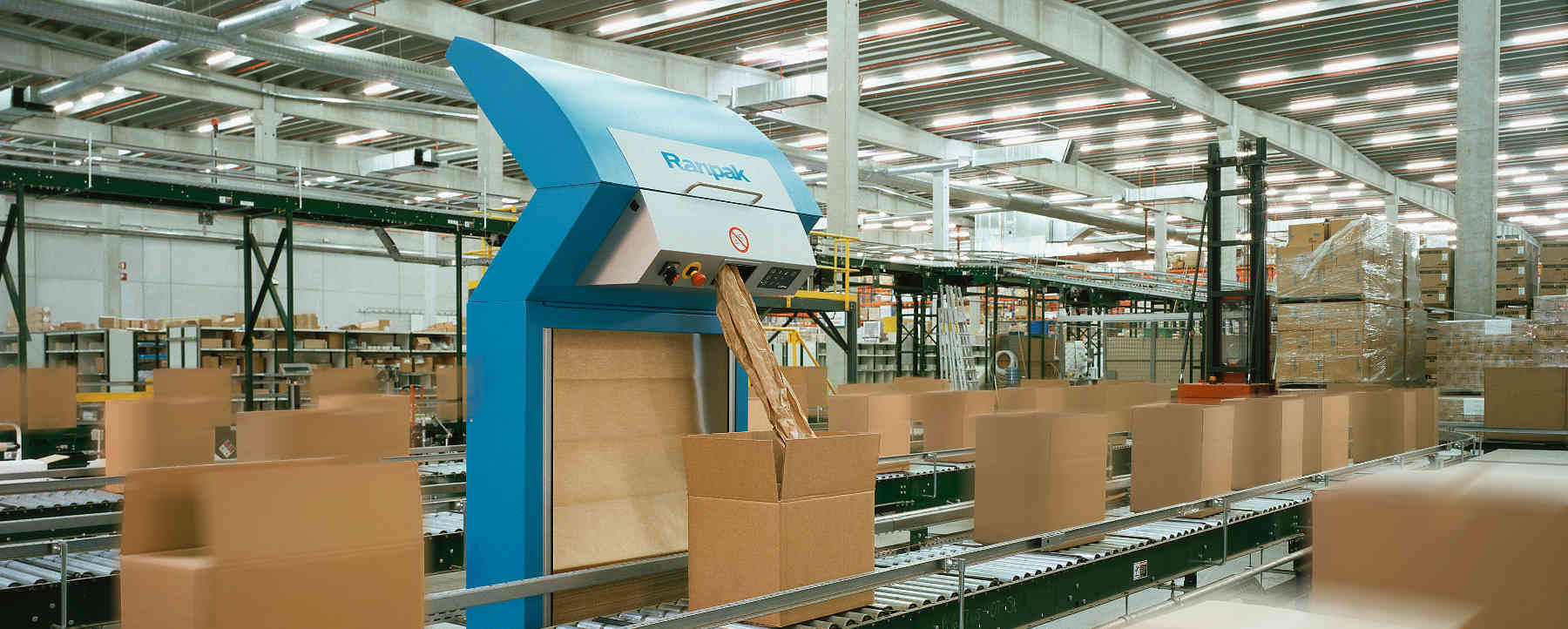 1
Environmentally conscious cavity filling
2
Different systems for different needs
3
Strands of paper at the push of a button
4
Continuous paper for optimized packing times
Locking cavities in outer boxes have never been easier. The innovative paper filling system is also suitable for the smaller as well as the bigger requirement. From smooth paper webs, the Fillpak converter forms a voluminous serpentine filling material. Filling with paper is particularly easy, environmentally friendly and offers several advantages in comparison with conventional packaging chips.
Systematic cavity filling
FillPak describes a system consisting of the so-called converter and a special craft paper. The converter forms a voluminous filling material from a smooth paper web, which is ideally suited for filling cavities. Without a suitable cavity filling, the transport gets a risk, as the outer box through the shipping item is not completely filled. FillPak firmly fixes the product in the box.
Special processing for a large volume
An applicance inside the machine ensures that a padded filling material from the smooth paper webs is created. Specially developed wheels serves as an applicance, which pads the paper by the sides and therefore ensures more stability. The endlessly folded paper (Leporellofolding) enables a quick processing with a paper feed rate up to 1.4 meters per second.
Suitable for big as well as small shipping departments
The paper filling system is designed for different quantities and product types. Different types of converters and papers are available depending on your needs.
FillPak M
FillPak TT
FillPak TT Cutter
FillPak SL
FillPak Pro
FillPak AccufFill
Converter
Dimensions
54 x 40 x 103 cm
43 x 45 x 46 cm
43 x 45 x 46 cm
64 x 78 x 230 cm
90 x 97 x 235 cm
90 x 97 x 235 cm
Weight
4 kg
8 kg
13 kg
103 kg
176 kg
176 kg
Mode
Manuell
Fußschalter
Fußschalter
EDS
EDS
Fußschalter
Manuell
Fußschalter
EDS
Manuell
Fußschalter
EDS
Paper
Quality
50 g/m²
70 g/m²
50 g/m²
70 g/m²
50 g/m²
70 g/m²
50 g/m²
70 g/m²
50 g/m²
50 g/m²
Width
380 mm
380 mm
380 mm
380 mm
760 mm
760 mm
Height
500 m
360 m
500 m
360 m
500 m
360 m
500 m
360 m
500 m
500 m
FillPak Prof.: This converter is specially created for the big need of filling material. An electronic control panel and a practical foot pedal makes the packing particularly convenient and easy. The converter works particularly quickly and delivers a paper feed rate of 1.4 meters per second.
FillPak TT: For the smaller and average need of filling material, the FillPAK TT converter is for your disposal. A foot pedal helps you to handle the converter very easily.
FillPak Manuell: The FillPak Manuell works without a motor and needs therefore only less maintenance. This converter is therefore very suitable in small shipping departments, which only use little filling material. The filling material is filled directly into the outer box.
FillPak Professional AccuFill:This system delivers the same advantages as FillPak professional. The converter is further equipped with a scanner and an AccuFillmodule. To determine the required amount of filling material, the additional module scans the cavity and ejects it automatically.
FillPak TT Cutter: The FillPak TT cutter converter offers the same advantages as the FillPak TT. The converter is further equipped with a cutting mechanism. This ensures an even faster and easier packaging process.
FillPakSL: Equipped with a bigger storage for paper packages and fixed wheels, the FillPakSL provides more mobility and a bigger cardboard throughput.
The advantages of Fillpak
FillPak offers some profitable advantages: The system is very easy to handle and processes the paper into any length you require. The packaging volume only is produced at the working place (1 package equals approx. 3m3), that's therefore FillPak only requires a small need of storage space.
Ergonomic operation
Natural product
Recyclable with outer box
Simple concepts for operating the system
Optimal product protection
Low storage requirements, large volume
Can be used flexibly for all types of products
Reusable
Ergonomic and easy handling:The handling of the system as well as the further processing is very easy. Place the product in the outer box, remove the required material from the converter and use it to close the cavities.
Short lead timesThe packaging process with Fillpak goes very fast. Fixed adhesive tapes connects until five paper packages to reduce the delays into a minimum.
A product for all types of products. Easy and sensitive products can be protected with FillPak just as safely for transport as sensitive goods.
Better protected:for the different application cases there are different filling techniques.
Small storage: the paper packages are delivered flately on a pallet. The volume of 3 m³ per package is only created at the packing table.
Environmentally conscious packaging solution:the system consists of 100% paper.
Reusable and easy to recycle: the end customer can easily recycle the filling paper together with the outer box or use it for their own purposes.
My FillPak:
If FillPak is your right solution should be handled with a personally appointment. Firstly, you need some time with the packaging specialist, who analyzes the environment of the working place and gives you an individual advice to find the best packaging solution. By the way: We would be happy to provide you with the FillPak system for free testing. During the testing phase, you only pay for the packaging material, which you use.