Padding, fixing, wrapping with just one packaging solution. The WrapPak Protector transforms smooth kraft paper into corrugated paper cushions. The paper cushion fixes the packaged goods within the outer box and cushions shocks during transport. Frozen products can also be transported properly with the WrapPak paper cushions. Due to the small dimensions, it can be used in a packaging line or on the packing table without any problems.
WrapPak paper cushions: versatile use
The WrapPak Protector creates corrugated paper cushions. The upholstery is FSC-certified (Forest Stewardship Council) and can be 100% recycled. With the WrapPak system, a large number of applications can be covered with just one single machine. The upholstery mats can be used as an intermediate layer for dishes, for wrapping individual products or for fixing objects within the outer box. The specially developed shape of the pad also serves as a heat insulator.
With the WrapPak Protector, several packaging materials can ideally be replaced with just one single solution. Used as thermal packaging, the WrapPak system replaces existing solutions such as thermal boxes made of Styrofoam. Depending on the application, both chilled and frozen food can be sent professionally.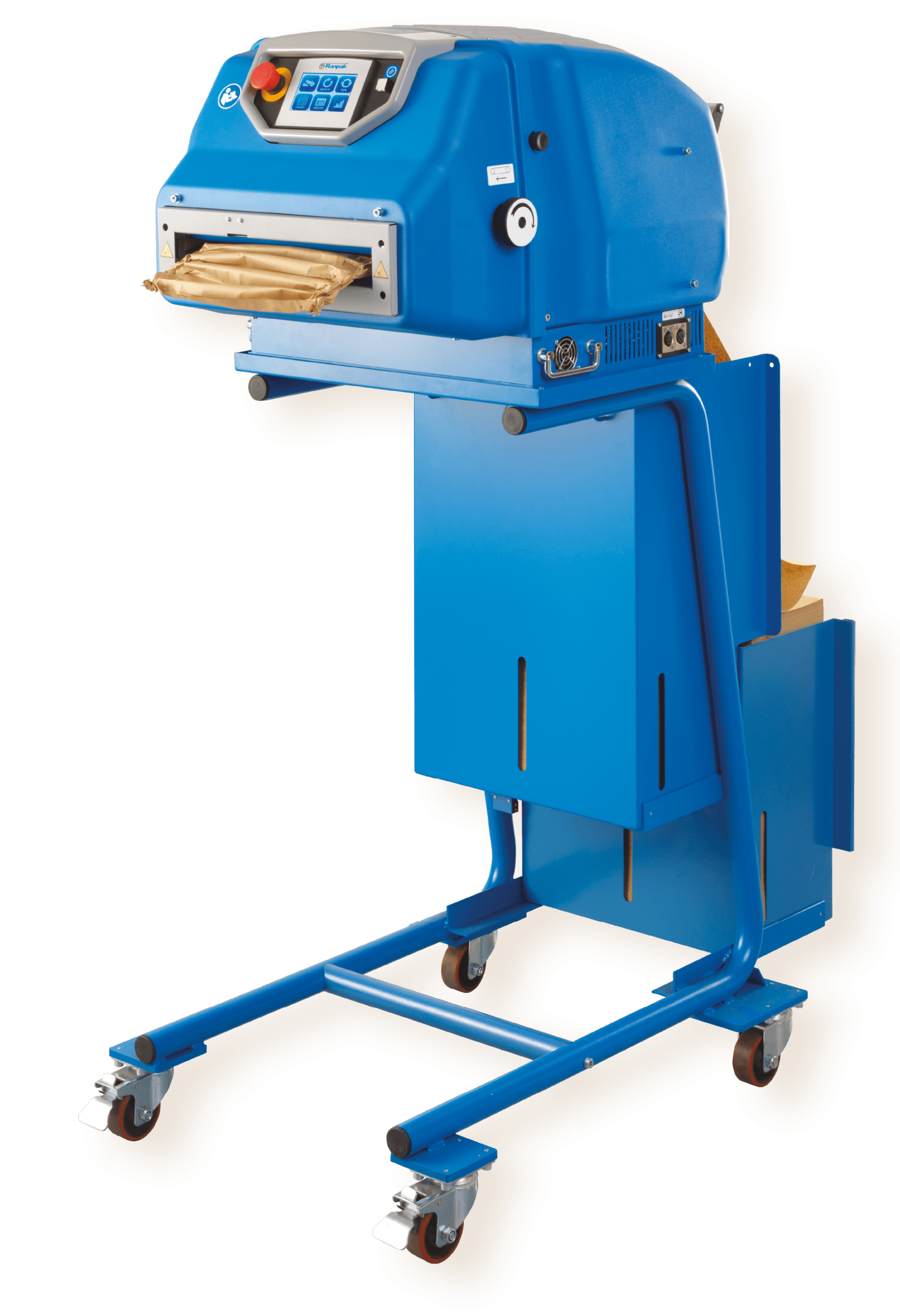 1
Space for sufficient supplies.
2
Ejection of the cushioning paper.
3
Converter control panel. Various different program settings are possible, such as selecting the length of the pad.
4
Small, compact and mobile. Can be easily moved within the packing station. The system can also be placed directly on the packing table.
WrapPak Protector Specifications
Converter
Cutting mechanism: automatic
Weight: 120 kg
Dimensions: 61x70x115 cm
Speed: 0.55 m / s
Paper
50 g / m2 kraft paper
Package length: 450 m
Package width: 38 cm
Package weight: 11.0 kg
Are you interested in PadPak or would you like advice? No problem! Call us on +49 7433 90441-0. By the way: We will be happy to provide you with the PadPak system for a test free of charge, you only have to pay for the used packaging material.
Main features of WrapPak Protector
Possible uses: wrapping, cushioning and fixing of products.
Output: up to 36 meters of cushioning material per minute.
Insulating: single or multi-layer insert for the transport of chilled food and frozen goods.
Versatile programming: pre-selection of the paper length, operation via foot pedal possible, upholstery production after removing the last pad, individual number and length setting possible.
Environmentally friendly: replaces various plastic and styrofoam products. Solution consists of 100% paper, certified according to FSC®.
All information at a glance? No problem! Here you can conveniently receive our WrapPak flyer by post.
Aroused interest?
First of all, only a little time for an appointment with our packaging specialist, who will assess your work environment and advise you individually in order to find the best possible packaging solution for you.