FIBER FORM
RECYCLABLE PACKAGING WITH BEST PRODUCT PROTECTION
Almost any type of product can be reliably protected with molded fiber packaging. The environmentally-friendly packaging provides optimal support for products thanks to its custom fit. As the packaging solution can be nested, use of storage space can be optimized.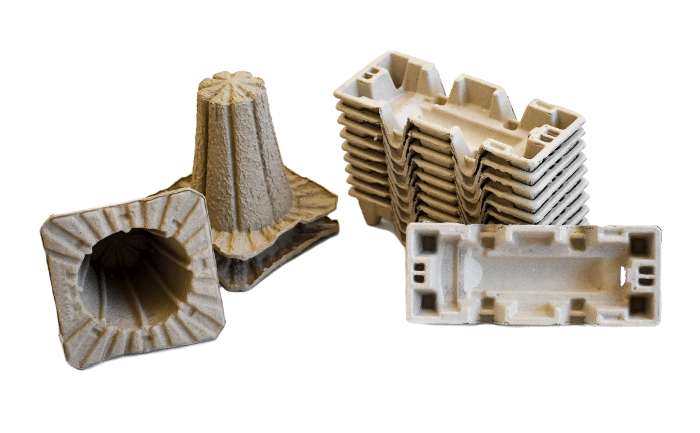 1
Nestable: This reduces storage costs to a minimum.
3
Different shapes possible
4
Can be used as a tray, protection and cushion
Long established in the electronics industry, molded fiber packaging is becoming increasingly important in the furniture, mechanical engineering and automotive sectors. The environmentally-friendly packaging, with its excellent shock and vibration absorption properties, is the inexpensive alternative to foamed plastic packaging for stringent requirements.
The molded fiber packaging is made from 100% recycled paper. The precisely molded shaped parts are used as cushioned packaging, supports for product sets, trays or as edge protection.
Individually customized fiber forms ensure reliable protection of a variety of products. The specially-adapted packaging ensures that the product is held firmly. The qualities of special packaging development offers optimal cushioned protection and reliably absorbs shocks and vibrations.
The advantages at a glance
Environmentally-friendly packaging that is biodegradable and recyclable. Thanks to its reusability, the molded fiber packaging contributes to the profitability of the company.
The packaging solution tailored to the packaged goods holds the product firmly in place. The packaging can be nested, thus reducing its volume. The nestable packaging units also result in huge savings on storage space.
Handling costs are minimized thanks to the simple handling.
Environmentally friendly: The molded fiber parts consist of 100% waste paper, are biodegradable and can be recycled at no additional cost.
Universal use: Can be used both as a support for product sets, trays and as edge protection, as well as cushioned packaging.
Custom fit: The fiber form packaging is specially developed and tailored to suit your product.
Nestable: The molded fiber forms are designed to be nestable. This reduces storage costs to a minimum.
Easy to use: The packaging solution is ready to use on delivery. There are no assembly costs.
Reusable: Paper fiber packaging is ideal for multiple reuse.
Manufacture of molded fiber packaging
Our molded fiber packaging is made from virtually 100% waste paper. Paper and cardboard – previously shredded in a water bath – form the base material, also called pulp. The pulp assumes specific shapes by siphoning and pressing the raw material from the water bath. This creates a moist basic shape.
This is dried over a certain period of time at a high temperature in order to remove the residual moisture. The combination of the proverbial 'baking and pressing' at high pressure gives the material its high strength, making it ideal for use as a dimensionally-stable packaging material.
Examples of application and common industries
The best-known example of molded fiber packaging is the standard egg carton. Due to its excellent shock and vibration absorption properties, the packaging has also found its way into other industries.
Medical technology
Furniture industry
Automotive industry
Measurement and control technology
High-end computer, audio and television industry Fiber mold for fragile bottlesFibre molds stackedFiber mold for glass
Interested? Take a moment to make an appointment with our packaging specialist, who will assess your work environment and offer you individual advice to find the best possible packaging solution for you. Contact the packaging specialist